A strong business reputation is essential in today's marketplace. You have worked hard to deliver a quality product and its what sets your paving company from your competitors. Why does it even matter what people on the internet has to say about your business? You might be thinking, "This has no impact on your bottom line. Right?"
- No. Dangerously wrong.
Regardless of how great you think your company is, people turn to online reviews before hiring paving contractors. 86% of consumers read online reviews for local business. [Source: BrightLocal, Local Consumer Review Survey] A positive reputation helps customers trust company, increases visibility in Google and most importantly converts searchers into leads.
When was the last time you Googled your company's name? I can assure you homeowners, HOAs, and property managers are. When making a significant investment, consumers will do their due diligence on your company before they write a check. Below are Google results for two paving companies. The one on the left is most likely having a hard time converting estimates into live jobs. The paving contractor on the right must be booked out for the entire season. Which one of these companies would you choose?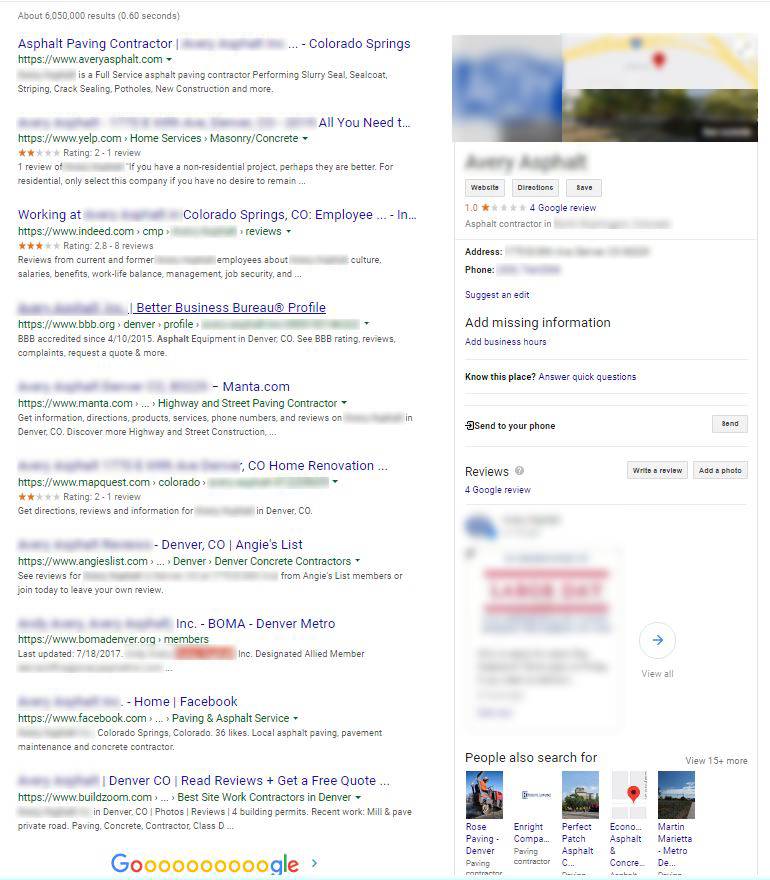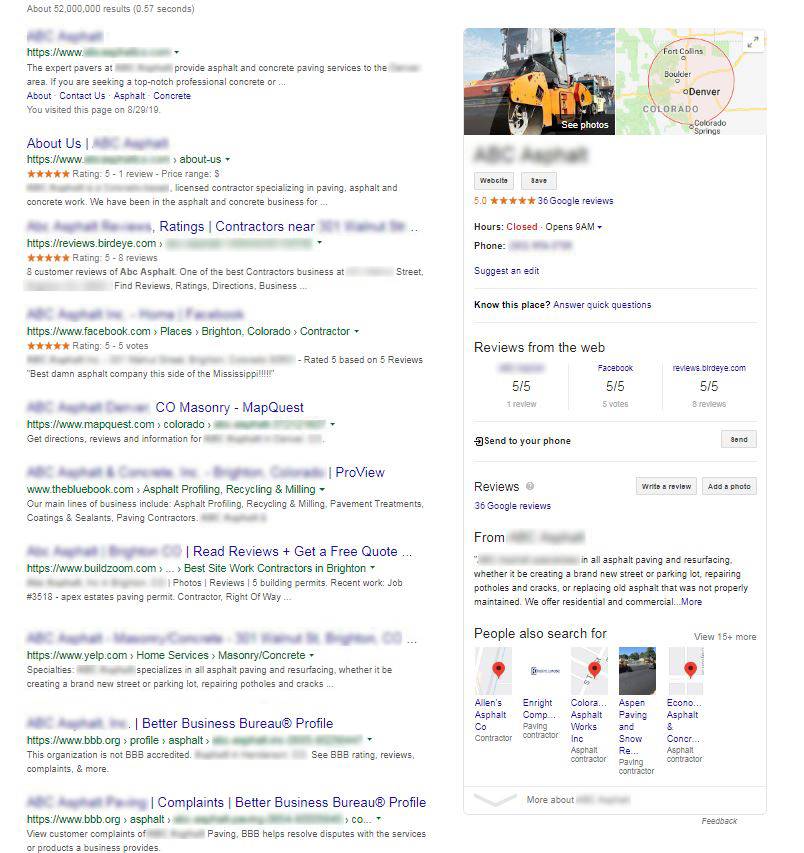 The names have been blurred out to protect each company.
Would you like to charge 15% more on your next bid? 68% of people are willing to pay more for the same service if they are sure they will have a pleasant experience with your company. [Source: Podium]
As the number of people writing reviews increases, consumers' confidence in these reviews is increasing. 90% of people claimed positive reviews had influenced their buying decisions, and 86% said negative online reviews stopped them from hiring a company. [Source: Dimensional Research]
Building A Strong Online Reputation
While it might seem like a daunting task to start getting reviews, it's not. You need a simple follow up program. Once the project is complete, follow up with the customer to make sure they are happy. If there are issues, have them addressed right away. Broken sprinkler head, fix it. If there is tack on the apron send someone over to clean it off. Regardless if they leave you a review, you want a happy customers, because reviews are great and so are referrals.
If the customer is happy with the job, ask them if they would leave a review. On average 2/3 of the people you ask will leave you a review [Source: BrightLocal]. Make it super easy and email them a link to the website you would like them to leave a review on.
Having a solid online reputation will help your company's website visibility in Google search results, allow you to increase your price while still win more jobs and increase the value of your company.
If you need any help building your online reputation, feel free to call or email.